How to get more followers on Instagram – the ultimate guide
Instagram is a great platform to expand your community and to promote your T-shirts. The picture-based app has gained enormous popularity and makes for an excellent marketing tool. However, if you are new to the Instagram arena, it can turn out to be quite challenging to get likes and followers. How can you overcome this problem?
The #key to #success are #hashtags.
But which hashtags should you use? When should you post them? How many? And what else can you do to boost your account?
Fret not, we have the answers to all these questions. All you need is to understand this two-part breakdown of the things that can take you Instagram game to new heights.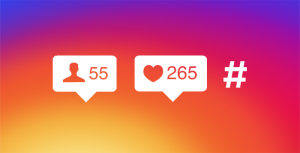 Part 1: Hashtags and how to use them
Firstly, you should keep in mind that some time ago Instagram changed the "rules" of hashtags. Now, the first few posts shown when searching for a hashtag are always the most popular ones, followed by the second section of pictures, which display the most recent ones.
Before the change in rules, the first picture you would see would be the one with the latest comment containing the searched hashtag. Therefore, many users commented on older pictures in order to boost the likes. This technique does not work anymore. The pictures are now chronologically ordered and comments cannot affect this. That means that you should ALWAYS integrate your hashtags while creating the post. Otherwise they will not be shown in the recent feed and your post will be harder to find.
Using hashtags related to your campaign is always a good idea, because you'll reach your niche in that way. If you are selling cat related T-shirts you could use hashtags as #cat #cats #cutecat #meow or #cute.
But don't underestimate the use of popular random hashtags as #ff (Follow Friday), #instafollow, #instagood, #tbt, #photooftheday #instalike #l4l (Like for like) #tagforlikes and #followback (the list goes on and on). By using these random hashtags you'll get the chance to attract users that didn't actively look for cat pictures, but can although be interested in them. If they like your picture and your feed enough, they might even follow you. This way you can attract more potential consumers.
Part 2: Essential facts and tricks
How about liking hundreds (or even more!) of pictures from people in your target group. Even if only 5% of those will follow you, it's still a huge success! Step by step your account will grow. The same rule applies for commenting on other users' pictures.
Another great idea is to create a contest on Instagram. Probably the easiest way to go viral. For example, post a picture of the T-shirt or other product you want to give away and ask people to like it, to follow you and to share the picture on their account in order to participate in the contest. Tip: You should already have a minimum of 20 pictures posted, otherwise people will unfollow you after the contest, because they didn't find your account interesting enough.
Post your pictures at 2am or 5pm. It is proven that content posted at these times get the most feedback. Tip: You can see how active the people you follow are by checking the oldest action in the "following" section.
Remember that quality beats quantity. Only leave the best pictures in your feed. No one will follow an account with hundreds of pointless posts. The resolution of a picture is important as well, the higher the better.
Next, make sure your bio is complete. Add the most important information, use some captive emoticons and most importantly, don't forget a link to your shop!
Post pictures on Sundays. That's the day with the least pictures posted, and so your post has the chance to be more visible.
Don't always post pictures of your T-shirts. Include some images of only the design or some pictures of happy clients wearing the shirt. Don't forget to thank and reference them in the description! The caption of your pictures is also a key point of a successful Instagram page.