Validating an Idea for a Niche Market
a. Audience Statistics (Audience Insights)
Audience Insights is a tool developed by Facebook that allows us to find and validate the potential of an idea for a niche market.
What questions should you ask Audience Insights about your target niche market? You must answer the following questions in order to better understand your niche and therefore target it better. Keep in mind that a "super" design without great targeting is useless!
What are the preferred brands of your target niche market that have Facebook pages?
Who are the celebrities that your target niche market admire?
What are your target niche market's favourite books? Films? Magazines? Blogs or websites?
What events do this target niche market participate in?
What associations/organisations are associated with your target niche market? A federation? An association?
What are the sub-niches of your target niche market?
Then look at the pages under the Interests area of Audience Insights for pages that match the answers to these questions
To use Audience Insights it is crucial that your Facebook interface is in English (US). To do this, go to your account settings and change the language to "English (US)". Rest assured, it's really easy!
To access this targeting tool, you need to go to the Ads Manager tab of your account.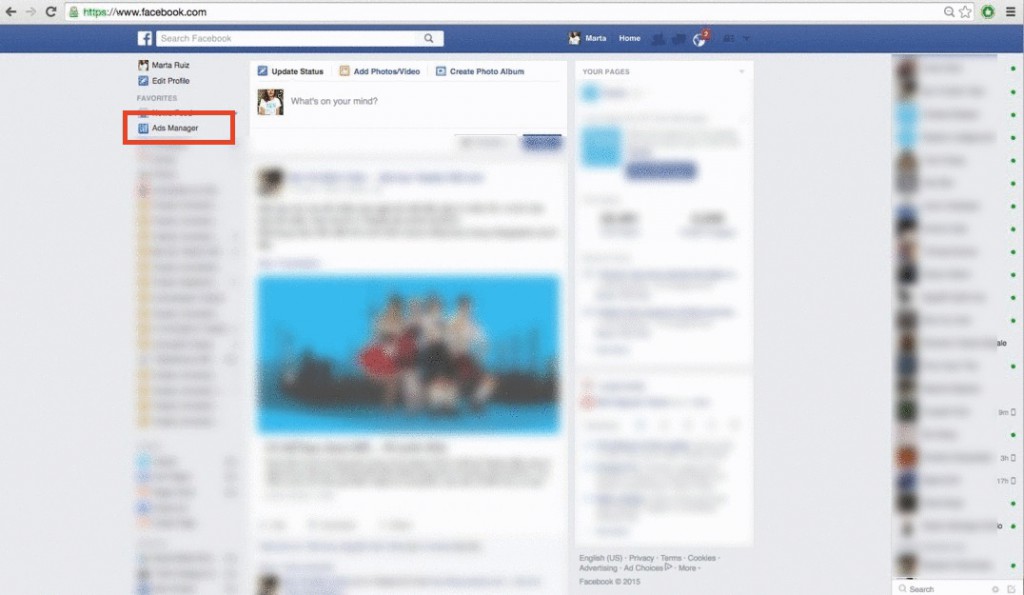 If you are using Facebook Ads for the first time, you will need to go to the following website in order to access Audience Insights: https://www.facebook.com/ads/manager
Then, click on Tools / Audience Insights.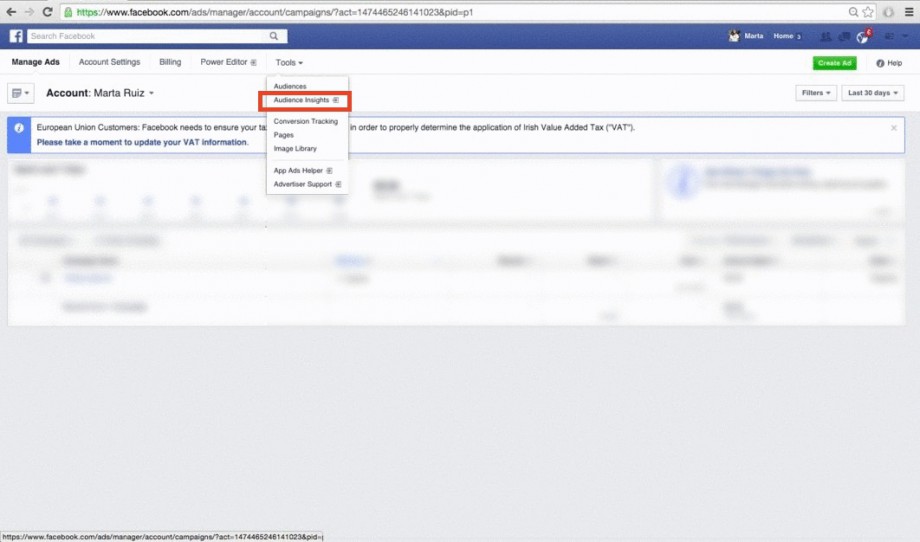 Once you are in the tool, a screen similar to the one shown below will appear. You need to click on Everyone on Facebook: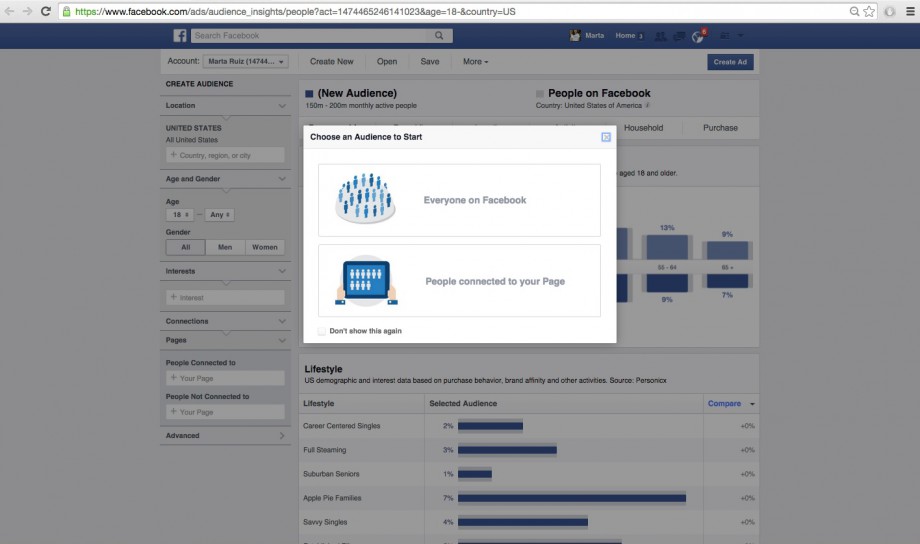 Then, select the country you wish to search in along with the nice that you want to position your campaign in (here we have chosen France and the guitar).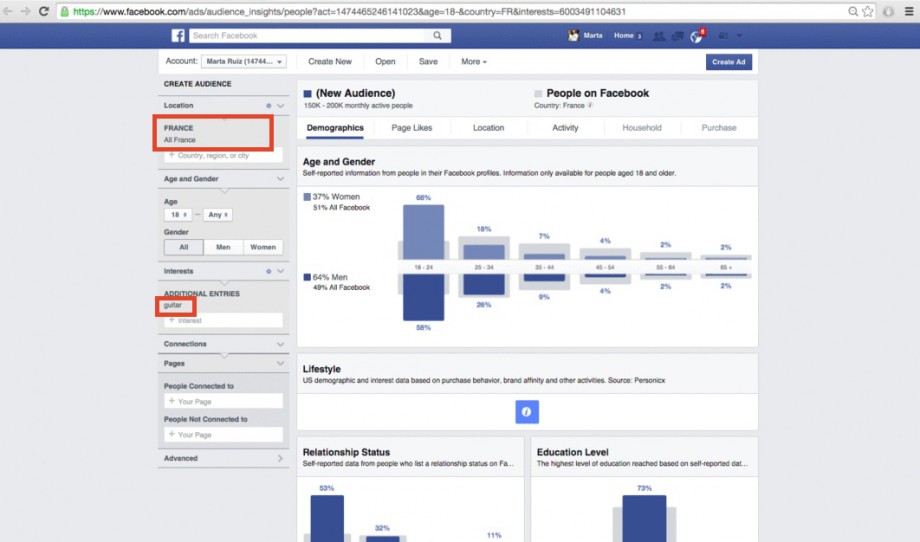 Here is the list of countries that we currently ship to: Germany, Austria, Belgium, Bulgaria, Cyprus, Croatia, Denmark, Spain, Estonia, the UK, Sweden, Finland, France, Greece, Hungary, Ireland, Italy, Lithuania, Latvia, Switzerland, Luxembourg, Malta, the Netherlands, Poland, Romania, Portugal, Czech Republic, San Marin, Slovakia et Slovenia.
The "Demographics" tab allows you to see the distribution of men and women in your audience by marital status: married, in a relationship, single or engaged and by education level: high school, college or grad school.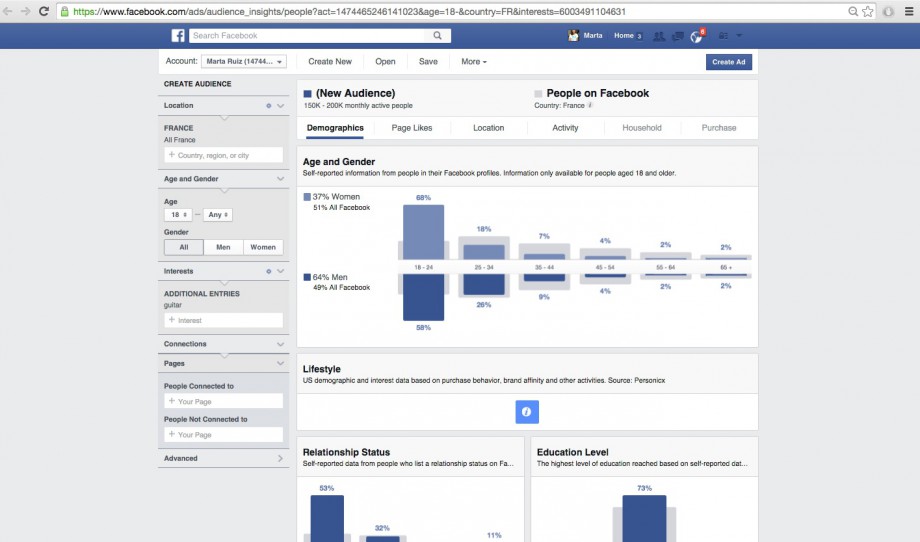 Please note: depending on the fields you fill in, the results on the different tabs will change accordingly.
In Audience Insights, you will find interest idea by going to the tab Pages like which will list pages X, Y, and Z that are similar to the interest that you have specified. The audience must be passionate enough to want to share your publication, therefore allowing you to get free traffic to your sale.  Therefore we need to study the audience consulting every page that you'll target.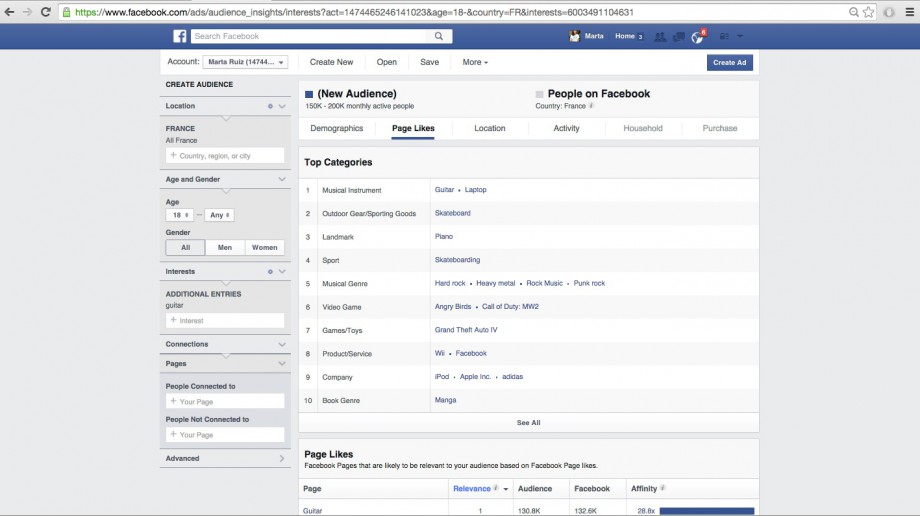 At the bottom of this page, the column Affinity measure the ability of your target audience to like a page over any other Facebook audience. In other words, is it an engaged audience or not?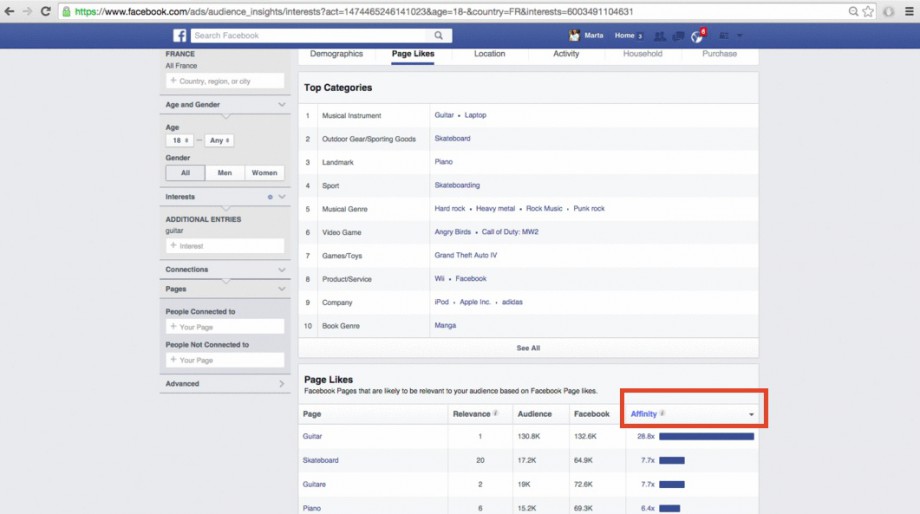 You can save this audience by clicking the save button at the top of your screen and then opening it in Power Editor.
The Activity tab lets you get even more information about your target audience, in particular the number of ads that the audience you are targeting clicked on.