How to promote your t-shirt on Facebook?
Now that your Facebook page (here we use Teeshop as the example) is created, it is possible to promote posts that can generate traffic to your campaign page.
After testing the effectiveness of different types of advertising, the engaging image post is one that will allow you to get the most from Facebook and its virality. In fact, your target audience will like and share your publication which will then appear in their friends' newsfeed.
There are, at least, 4 ways to sell your Teezily created T-shirts on Facebook.
a. Posting on Your Fan Page (free)
This works very well as, when you already have an engaged and passionate audience, you can easily sell T-shirts for free. For example, one of our sellers recently launched a campaign on one of their pages, and without investing a single Euro into marketing on Facebook earned more than 2,000€ in just two weeks.
Feel free to comment on your new publication to add your Teezily campaign link.
Create the idea of exclusivity by saying in new comments: "There are only three hours left to buy this shirt. Available in sizes S to XXL".
You need to post your shirt at peak Facebook hours (about 3 times a day) and add comments to the posts. We have found that they work best 9am, 1pm and 9pm, particularly for T-shirt posts.
On the last day of your sale, post your T-shirt 5 times during the day and encourage your buyers to purchase with the following types of sentences: "Only a few hours left!", "Last chance to get …", etc…
Plan your posts in advance by following the screenshots below: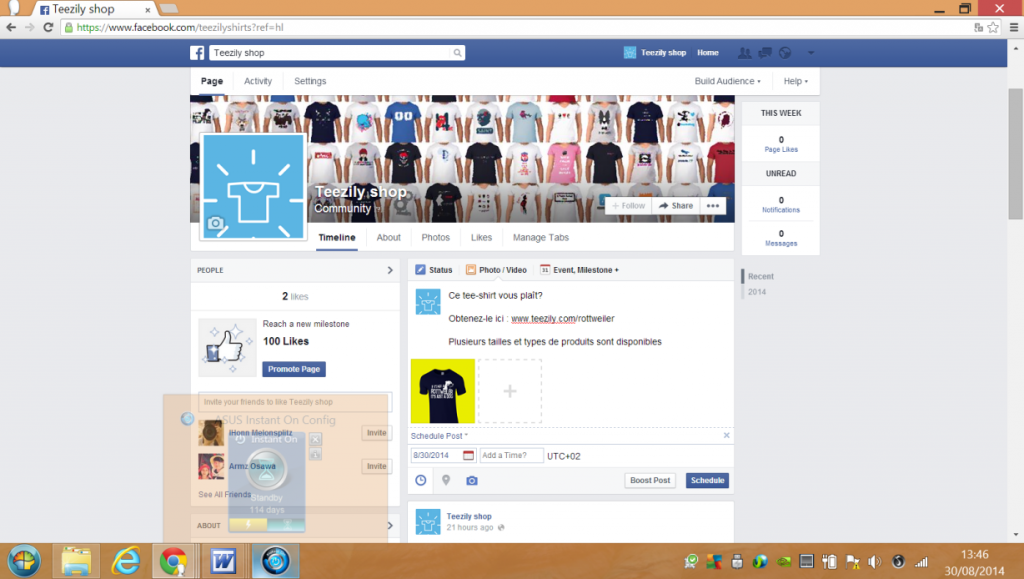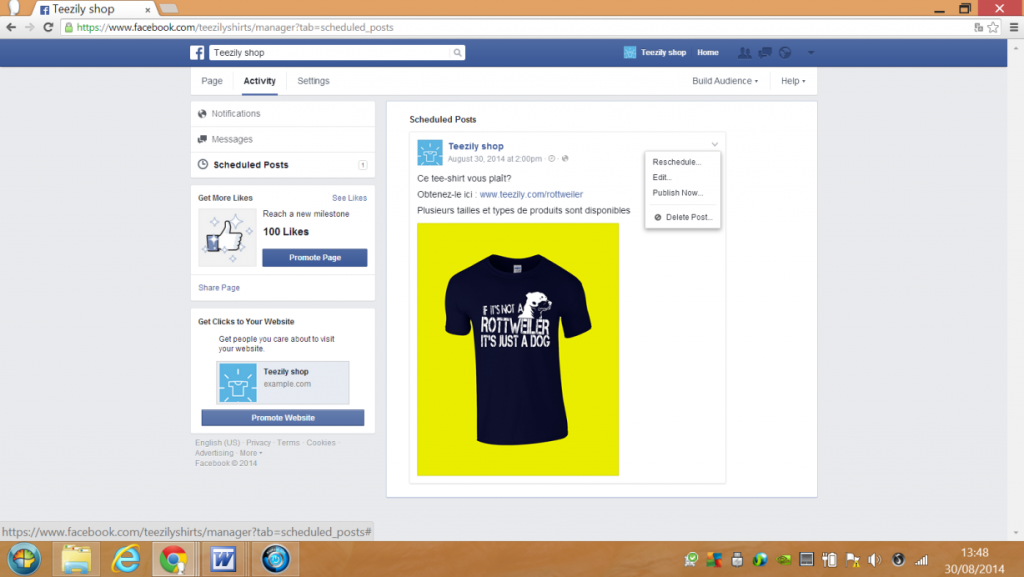 b. Post Jacking     
Thanks to your previous targeting, you have already identified the groups and pages that have the same niche as you.
To recap, here is what you can search for in Graph Search to find the groups and pages that will make up your audience and that you need to post to:
– Pages related to [niche_name]
– Favourite pages of [niche_name]
– Pages liked by people who like [niche_name] or [niche_name]
– Groups joined by people who like [niche_name] or [niche_name]
Then, on the different pages, find the ones that have benefited from the greatest number of likes and communication within comments and post your link to your Teezily campaign there.
Below, you will find an example of the types of comments you can post:
"Hi everyone, this T-shirt is only available for 7 days! – www.teezily.com/rottweiler"
Make sure that you post on other pages as your campaign page « page » and not using your « personal profile ».  To do this, following the below shown steps: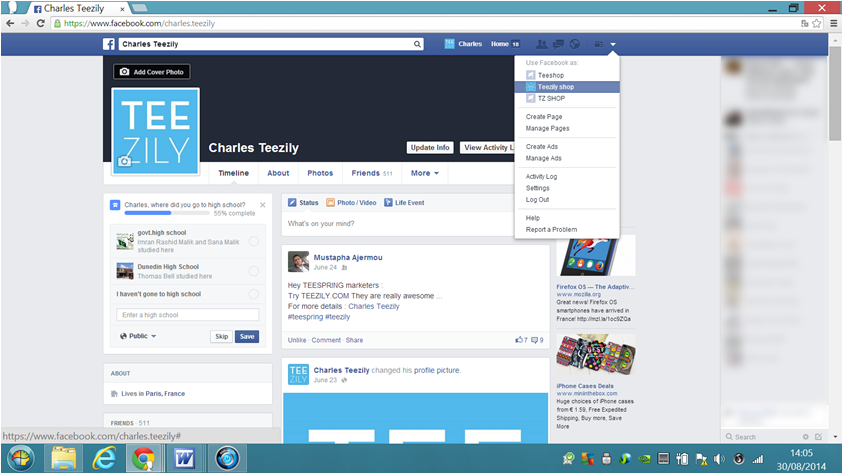 To post in certain groups, your post will need to be verified, therefore it is essential to ask the administrators to approve your post.
c. Using the Ads Manager Tool
There are many types of advertising to promote a T-shirt on Facebook. Here, we will focus on the method that works the best, the « Engaging Page Post » (EPP).