Using Pinterest to Find a Niche
Pinterest is one of the biggest sources of inspiration, idea and interest. With more than 110 millions of active users, it contains not less than 50 billion pins. If you want to explore new niches for your Teezily campaigns, Pinterest will surely offer you vast insights. But for the best result, there are some several tips and tricks that you need to know.
In order to find a good niche in Pinterest, you may try certain ways. But first, log in with your account.
You may start searching your niche by taping random ideas in the search bar. Add additional keywords like "t-shirt", "quote" or "joke" to lead your research to related contents of campaigns.
But there is a chance that you can not find any useful insight. In this case, try one of the feature of Pinterest.
On the top of the site, you will find several links, including Categories. Simply hover over this link and you will be presented with over 30 great areas to enjoy. You'll find sports, cars, geek, science and nature, travel, history, holidays, art, humor, foods, and more.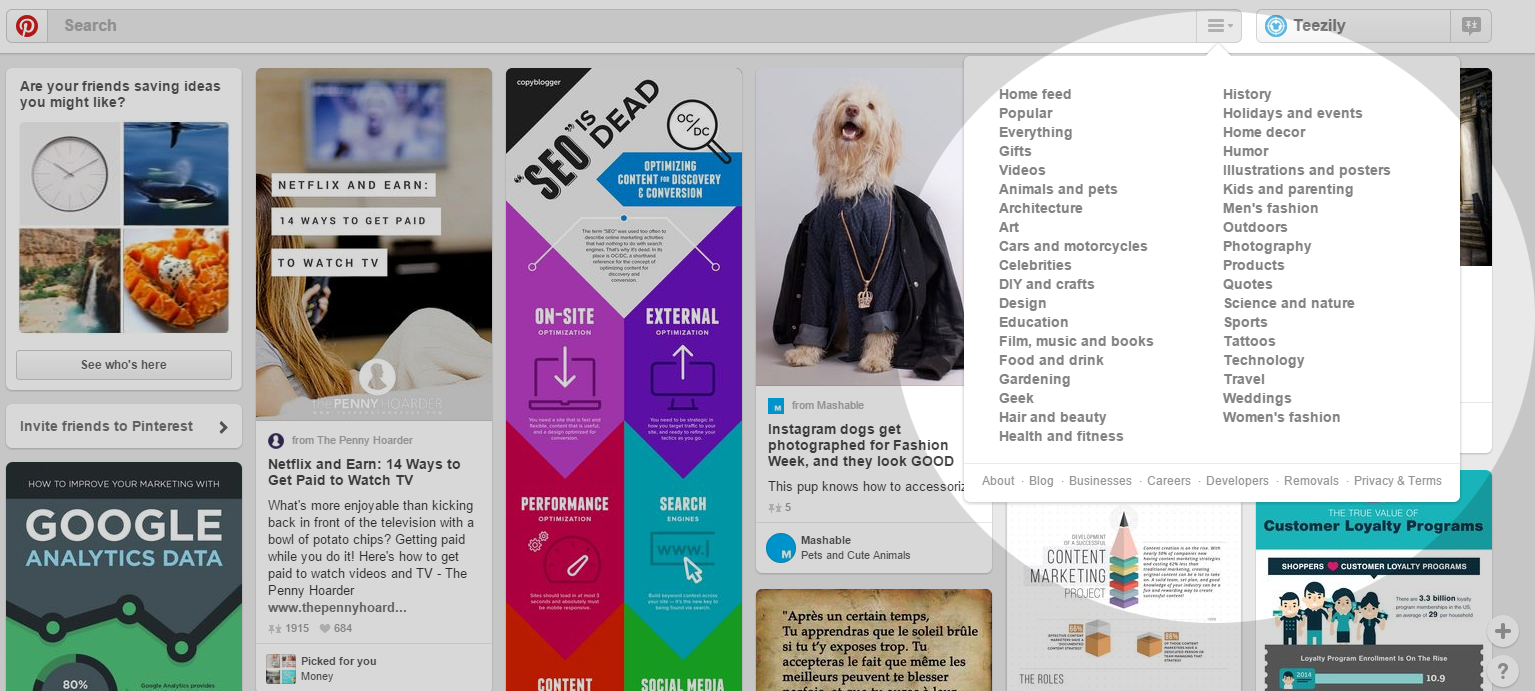 By clicking one of the category, you will be directed to group of a category. For the example, this is the result of "Cars and Motorcycles" category.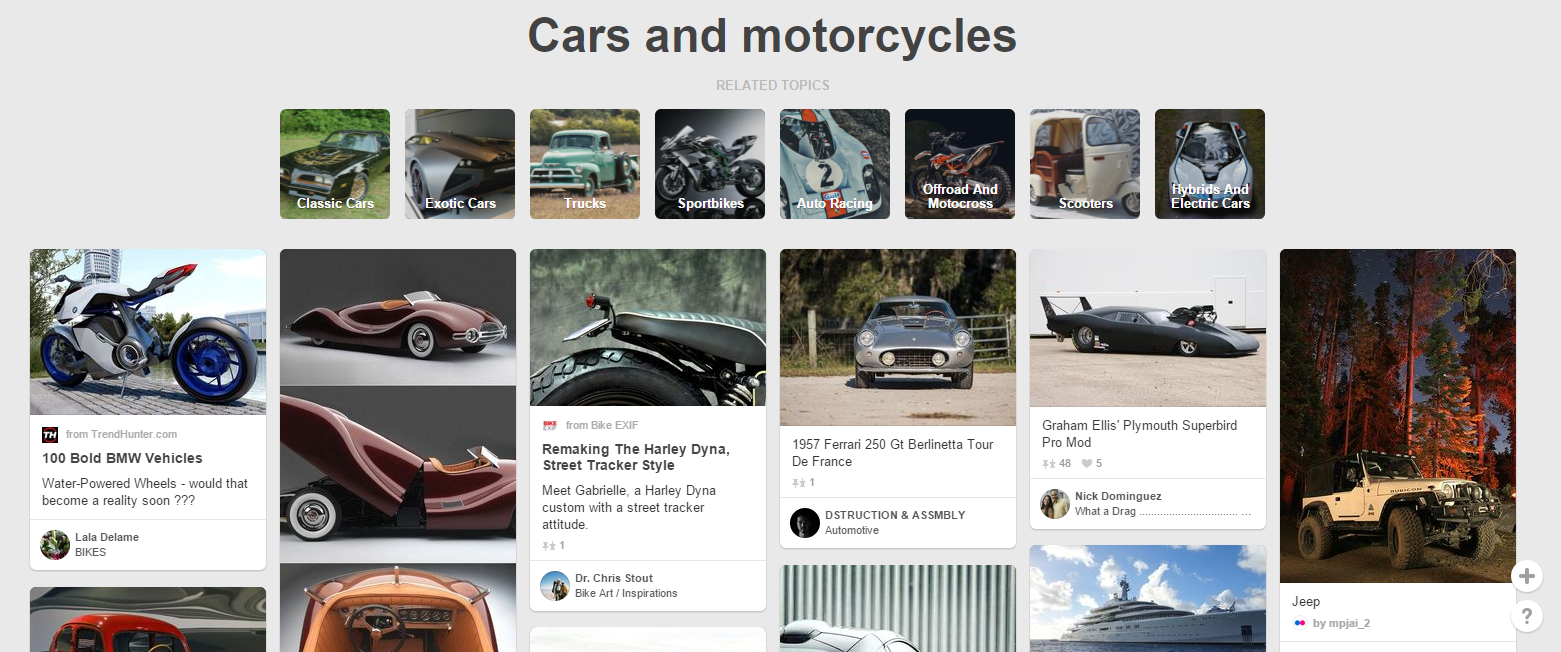 As you may notice, Pinterest will propose us again with several popular subcategories, such as Classic Cars, Exotic Cars, Truck.. etc. In order to get better insight, choose one of them. In this case we click "Offroad and Motocross".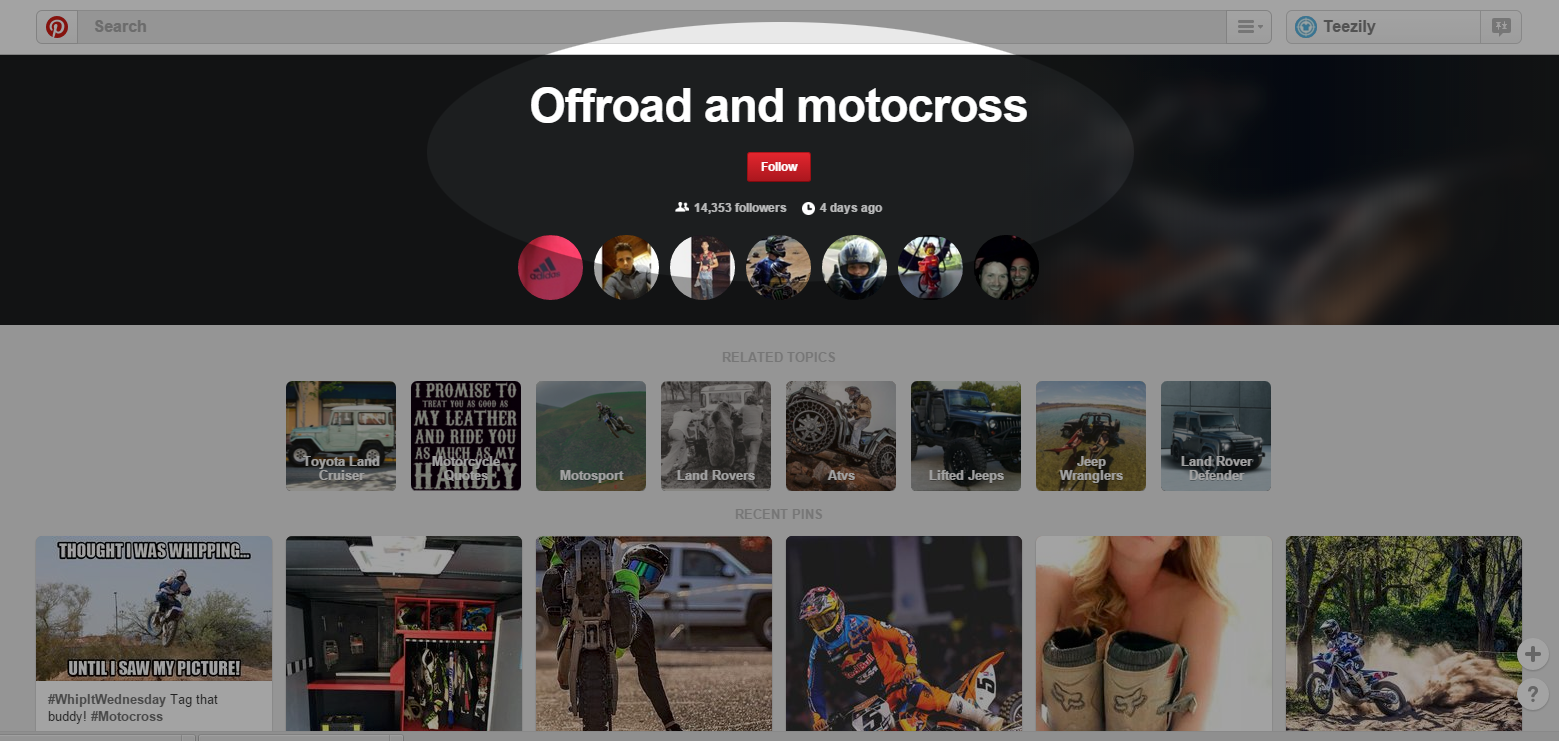 At this point, we can see the number of the followers of this interest and the last time this interest updated. Those two parameters indicate the popularity and the novelty of this interest. You can start scrolling down to observe the posts in favor of having a bigger image of this interest. Yet, Pinterest will propose us again with smaller categories for narrowing down our idea with particular segmentation, such as Motosport, Land Rovers, Jeep Wranglers, etc. By checking them one by one, you may compare the number of the followers and the latest updates. Start crushing between small categories and series of posts to get the useful insight.
But there is a tip that you may note it immediately. Your research for a hot new niche can be easier with Smallfbtools, free campaign assistant platform from Teezily.
Go to the website of Smallfbtools at http://smallfbtools.com/.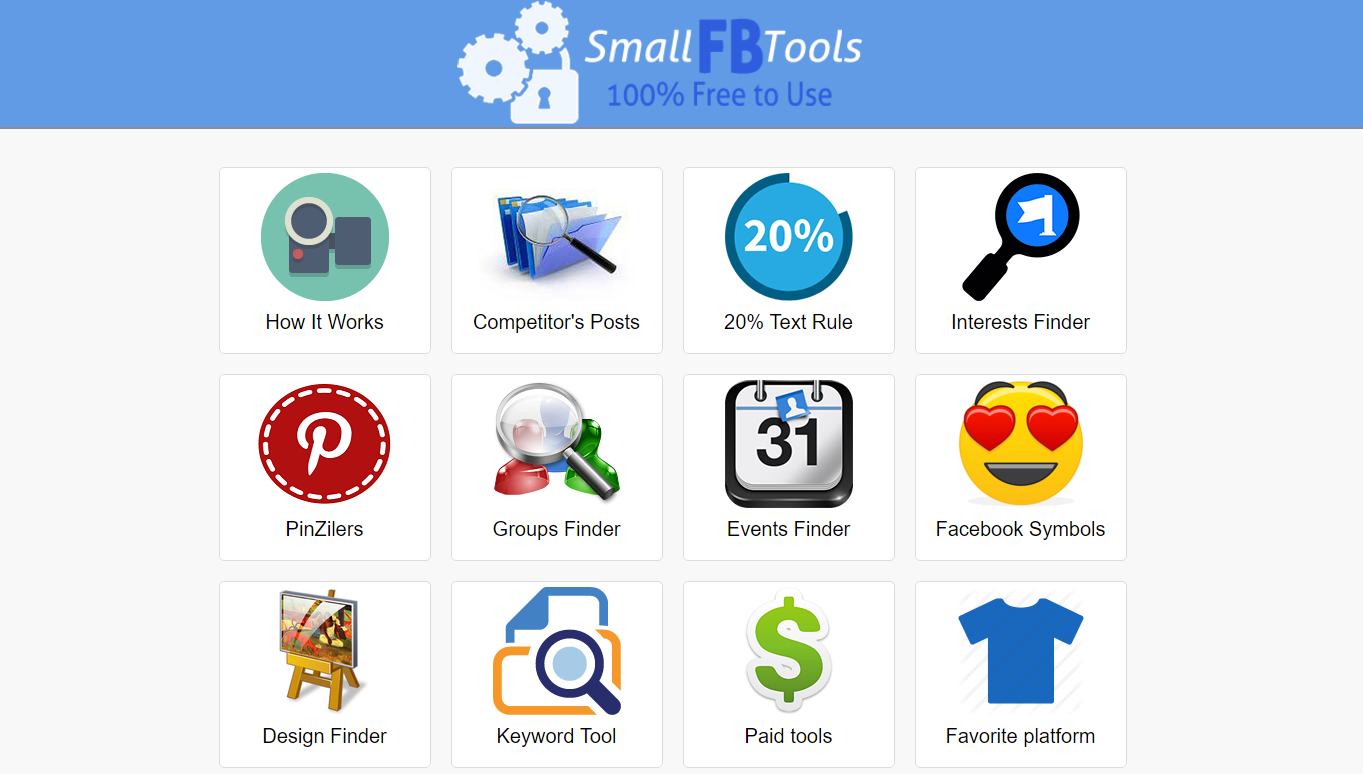 Then click PinZiller tabs and it will tell you to Install Pinziler chrome extension to Sort Pins by repins or likes. Click the link and follow the instruction to install the extension properly. This extension is available in the Google Chrome only at the moment. After it is done, the extension button will be at your disposal on your top right of Chrome. Go to Pinterest and search with any keywords you want, then click the Pinziler button. A small window will pop up to offer Repins filter, Likes filter, and number of pages shown. Adjust to 10 pages or more than click arrange by Repins. After taking several moments, it will show your search results by the number of repins. It goes the same way with the number of likes.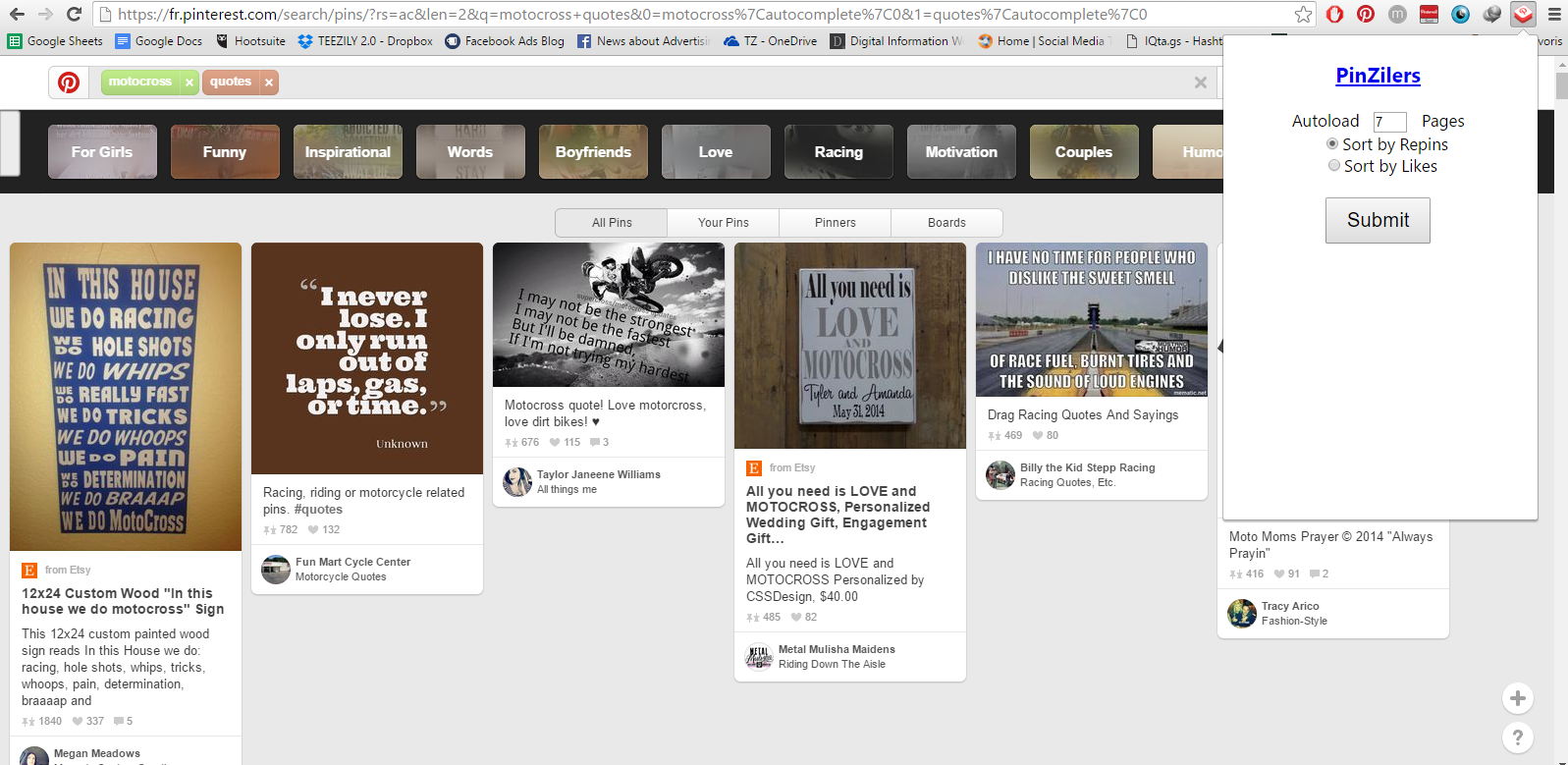 Combine this tool to find your super niche and inspiration. You may use this tool also to spy the existing t-shirt designs and campaigns in your desired niche in Pinterest. Confirm your findings by Audience Insight in Facebook and launch your campaign.
Remind yourselves to avoid all copyright matters. Let our legal team validates your campaign by emailing us at moderation@teezily.com. Do not plagiarize also any running campaign in order to secure your performance