The Retargeting Pixel
The retargeting pixel allows you to target people who clicked on the link but have not bought any products.
Make sure it works properly by going to: https://developers.facebook.com/docs/ads-for-websites/pixel-troubleshooting.
Keep in mind that only 2 % of your customers will buy the first time they see your advertisement. They showed an interest in your campaign by consulting the advert and with this pixel you can target them again and they will, hopefully, buy.
To use the Custom audience which corresponds to the Facebook users who have seen your advert but not purchased anything, you must have at least 20 hits to your campaign page.
Then head over to your Ads manager and click on Audiences, after that Create a custom audience, then on Website traffic.
Give your personalised audience a unique name related to your campaign and say Only for people who have visited the web pages, not the others. It is necessary to exclude from the page people who have bought your T-shirt because you are not going to pay for those who have already bought one.
Make sure that you keep this information for 180 days. This information can be very useful if you decide to relaunch your campaign.
Once you have created an audience, click on Pixel details, copy the given value and paste it to your Teezily campaign according to the procedure outlined in the following screenshots:
Then retrieve the 15 digit number and copy it to your Teezily campaign.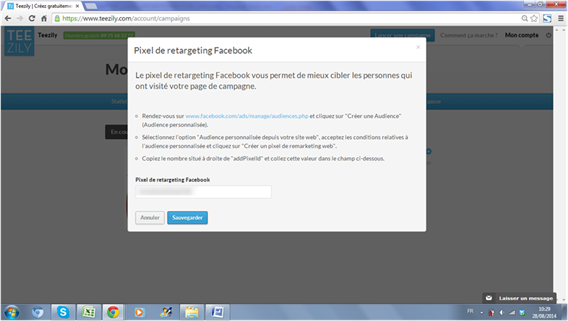 Only 4 days after the start of your campaign you can create an Ad set (the concept of which is detailed in the next chapter) to retarget these users by creating a Click to website advert with oCPM in Dark post because it allows you to leave more room for writing and convince potential customers to buy your product. You already know that they visited your campaign page. Unlike PPW, retargeting is valid for the Right hand colume as well as the Mobile News Feed and the Desktop News Feed. You should fill in the field Custom audience with the custom audience that you made under Audiences when launching your Teezily campaign. The PPE is useless here because the commitment of the audience is not required, do not try to make your advert viral.